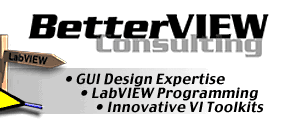 Interface Designer's Workshop__
LabVIEW™ Interface Analysis Request
We would be pleased to give one of your panels a free critique*, offer some constructive criticism and provide suggestions for possible improvements.

Simply email an URL that points to the screen image, or attach a copy of the image (JPEG or GIF format ) to an email message. We will review the panel and send you a personalized email response consisting of analysis and ratings according to a number of design criteria, general comments and detailed recommendations and a brief summary. Submit a panel for critique.


*Note: All panel images will be reviewed and critiques prepared on a first come, first served basis. We will make every effort to complete the critiques as soon as possible, however, if the demand for this service becomes high, we ask you to please be patient. Critiques will be completed and returned as time permits.

BetterVIEW reserves the right to discontinue this service at any time.