Existing Users - Upgrade to
Mathematica© Link for LabVIEW™ Version 2.1


Over the years, Mathematica Link for LabVIEW users were fortunate. The original version of the Link retained full compatibility with all versions of LabVIEW from 3.x to 5.1. When upgrading from one version of LabVIEW or Mathematica to the next, you simply imported the original Link components into the newest versions of your software.

Unfortunately, the release of LabVIEW 6.0 (later 7.x, and now 8.x) introduced some complications into an otherwise seamless upgrade cycle. Users attempting to load the original VIs into LabVIEW 6.0 or higher encountered the dreaded "broken run arrow" with a number of the VIs.

Upon discovering the incompatibilities, we had a choice to make:

We could simply fix the broken VIs and ship the upgrade in much the same form as the original,
Or we could use this opportunity to make some improvements to the original product.
We decided on the latter.
Therefore, in addition to upgrading the broken VIs, the new, improved Mathematica Link for LabVIEW Version 2.1 includes several usability enhancements, new demo material, and a number of other improvements as outlined below.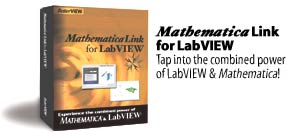 Key Benefits of this upgrade:

• Enjoy all of the previous benefits of the Link in a LabVIEW 6.x/7.x/8.x and Mathematica 4.x/5.x environments.

• Take advantage of recent LabVIEW and Mathematica advancements from within your existing Mathematica Link for LabVIEW workflow.

• Increase productivity and save time with new usability enhancements:

- Better LabVIEW Functions Palette organization

- New and Improved LabVIEW Tools menu functionality

- More flexible command options for calling VIs from Mathematica

- New LabVIEW installer auto-configures toolkit VIs to match the target PC configuration.

• New demo material introduces new techniques and illustrates how the toolkit components can be used as low-level elements in larger scale application development.

• 100% compatibility with your existing Link VIs and notebooks in addition to the new features and added functionality.




---
This Upgrade is available in two versions.
Choose either:

the Electronic (instant download or email delivery) version
- includes the complete revised User's Guide in .PDF format.


OR



the Boxed Version with CD-ROM and hardcopy manual.


Key Features of this upgrade:

• All components updated for compatibility with Mathematica 4.x/5.x and LabVIEW 6.xthrough 8.x

• Functions palette items have been reorganized to improve usability

• Convenient Tools menu functionality of previous versions has been improved and expanded through the use of a new VI Server aliasing scheme. (Duplicate copies of high-level VIs have now been removed from LabVIEW Project folder to eliminate VI versioning conflicts that could have caused problems in previous Link releases.)

• VIClient.m has been updated so both VI Server and legacy victl.llb terminology can be used to open and control VIs from a Mathematica Notebook

• Revised User's Guide with new sections covering the new features, plus updates and clarifications to material found in the original User's Guide.

• Complete contents of the updated User's Guide is now available in a searchable, indexed .pdf file - easily accessed from the LabVIEW Help menu

• Several intermediate and upper-level VI diagrams optimized

• Innovative, new LabVIEW-based installer VI that automatically configures the Link components and mass-compiles the VI libraries.

• New demo material including:
- a new simulation and PID control demo
- a new Mathematica Shape Explorer Demo
- a new Mathematica Graphics File export demo
- three new hands-on notebook demos illustrating step-by-step, how to acquire data into a Mathematica notebook, and how to apply Mathematica functions to this LabVIEW-acquired data.